Introduction to Argentine exceptionalism
Latin American Economic Review
2018
27:1
Received: 25 September 2017
Accepted: 27 October 2017
Published: 5 January 2018
Abstract
This article is an introduction to the special collection on Argentine Exceptionalism. First, we discuss why the case of Argentina is generally regarded as exceptional: the country was among the richest in the world at the beginning of the 20th century, but it gradually lost this place of privilege. We discuss that most explanations regarding the hypothesis of Argentine Exceptionalism fall into one or several of four categories. The first explanation is to challenge the exceptionalism hypothesis, either by arguing that the country was not so rich at the beginning of the 20th century or that it is not so poor now. The second explanation states that the country failed to generate growth supporting institutions despite its wealth, thus leading to a relative decline in its income level. The next explanation is that the country faced a series of adverse external shocks which disfavored what had been a successful growth model. Finally, scholars have also stated that exceptionalism is a consequence of poor policy choices, in particular a tendency towards state intervention and isolationism. Next, we introduce the remaining papers of the special collection and how they relate to the aforementioned hypothesis. Finally, we offer some concluding remarks regarding this article.
Keywords
Argentine exceptionalism
Economic history
1 Introduction
Argentina began the 20th century as one of the wealthiest places on the planet. In 1913, it was richer than France or Germany, almost twice as prosperous as Spain, and its per capita GDP was almost as high as that of Canada. Until the 1930s, the French used the phrase "riche comme un Argentin" to describe the foolishly rich. The century's golden beginning was followed by far less prosperous decades. Over the last 100 years, Argentina's place in the hierarchy of nations dropped precipitously, falling behind not only Europe but also many of the growing countries in Asia.
Why did a nation that was doing so well end up doing so poorly? Argentina's mediocre 20th century performance matters not only for students of Latin American economic history. That performance stands as a warning to the world. No country is too rich to fail. The set of essays in this journal collects different perspectives that attempt to make sense of what went wrong in Argentina, in the hope that more knowledge will improve Argentina's future and help other nations to avoid future pitfalls. This special collection was the brainchild of John S. Reed, whose generosity is only matched by his intellectual curiosity and care for Argentina.
This introductory essay reviews the seven papers included in this special collection dedicated to exploring the puzzle of Argentina's economic performance during the 20th century. Section II begins by summarizing the facts. We rely, like much of the research community, on the data gathered by Angus Maddison, supplementing it with other sources. There is some controversy regarding whether Argentina was really wealthier than Western Europe, but there is little doubt that Argentina was, in fact, quite prosperous by world standards.
That prosperity was not shared equally across Argentines, but that was hardly unusual. Between 1870 and 1930, Argentina experienced robust growth and remained wealthy by world standards. Between 1930 and 1970, Argentina continued growing, but at a slower pace than the world as a whole. By 1975, Argentina's income had slipped to being 60% of incomes in France. Then, after 1970, Argentina stagnated and during some years even declined. Argentina's 20th century path serves as a cautionary tale about how a wealthy country can lose its way.
In Sect. III, we outline four basic hypotheses present in the literature on Argentina's economic decline. The first hypothesis suggests that Argentina's decline is not exceptional after all—maybe Argentina was not really rich, in a broad sense of the word, by 1929, and maybe, recent figures underestimate the growth in GDP (and welfare) due to critical structural changes. The other three hypotheses emphasize bad institutions (e.g., a Democracy too weak to defend itself), bad policies, and bad luck in international markets.
Of course, this classification is only an attempt to order the discussion, as each of the four hypotheses admits several variations and often complement one another.1 Bad policies often emanate from bad institutions. Indeed, a feature of the seven papers in this special collection is that they are related to each other as, typically, the economic factors that bedeviled Argentina reinforced each other. Section IV of this essay presents and summarizes the papers and ties them to one or more of the four hypotheses.
Finally, in Sect. V, we emphasize the core themes running through the essays in this special collection. Argentina was different at the start of the 20th century: it had less education, technology, and probably also weaker political institutions. Those factors made Argentina particularly vulnerable to economic shocks and that vulnerability led to dire political consequences. The lack of human capital also made it particularly hard to find new ways to grow throughout most of the past one hundred years, especially when global changes challenged a previously successful economic model. Argentina's bad 20th century is surprising, but it is not inexplicable. It is the outcome of adverse shocks, and policies that responded to those shocks, impacting a country that had only natural-resource-driven prosperity.
2 The basic puzzle
Was Argentina's growth experience during the 20th century an exceptional one? In terms of its rate of growth it certainly was, at least after the first couple of decades. Figure
1
provides a starting point for the questions posed in this special collection. It shows Argentina's per capita GDP expressed as a percentage of 12 rich nations' income per capita. Amidst many short-run fluctuations, the longer term lackluster pattern stands clear. In 1870, Argentina's per capita GDP was two-thirds of the rich country average. By the beginning of the 20th century, Argentina's output had risen to nine-tenths. After a brief crisis during World War I and recovery afterwards, a long relative decline ensued, with two prominent exceptions. Argentina enjoyed a short spurt in the late forties, which were the early Perón years and in the immediate aftermath of World War II. Argentina kept pace with the other wealthy nations during the 1960s. Relative decline accelerated after 1975, and by 1990, Argentina had reached a level of around one-third of these (relatively rich) countries' per capita GDP. In the last two decades, Argentina's prosperity has fluctuated wildly, but the downward trend seems to have subsided. Still, there is not still recovery in the income ratio with the rich.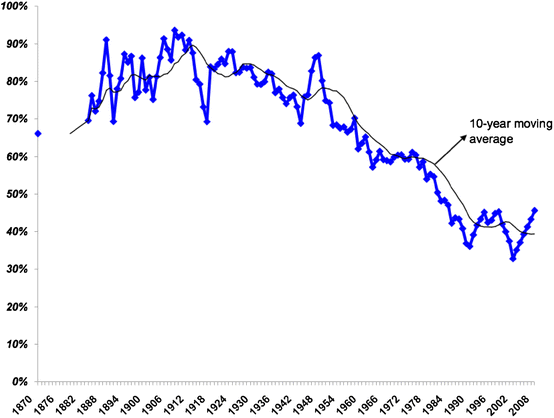 If we use 1928 as a base year, which was probably the final year of Argentina's own belle époque as well as the end of America's Roaring 20s, we see that no other country of major economic significance took so long to double its per capita GDP. This feat was achieved by Argentina only in 2000. During the same period, the richest members of the "convergence club" (Britain, US, Canada, Belgium, Netherlands, and Australia) multiplied their income by around 4. Other currently developed countries saw their incomes increase even more dramatically. Germany, France, and Sweden quintupled their per capita GDPs. Incomes in Italy and Spain grew six fold. Finland's income was multiplied by 7 and Norway's by 8. Japan, Taiwan, or Korea grew by more than tenfold. Even among the not too successful Latin Americans, Argentina performed poorly: between 1928 and 2000 Brazil multiplied its per capita income by close to 5, Mexico by 4, Chile, Colombia, and Venezuela by around 3. Only Uruguay (2.02) and Peru (2.08) are close to the 1.995 ratio between Argentina's 2000 and 1928 per capita GDP.
By the end of the 20th century, Argentina's story of economic divergence is particularly sad for a country that looked so promising at the century's dawn. In the 10 years following 1900, Argentina had the highest immigration to population ratio in the world—an unequivocal sign of high hopes. That steady inflow of labor did not prevent the country from enjoying, along with Canada, the world's highest per capita growth rate in that decade. Between the eve of World War I and the 1920s, Argentina was very close to being a rich country if it was not already there. Argentina's per capita GDP lagged behind the average of the core Western European countries and Maddison's "Western Offshoots" by less than 20%—and sometimes by as little as 7%—between 1905 and 1929. Massive population growth and economic success between 1870 and 1930 combined to multiply Argentina's share in world GDP by a factor of 4.2
Disappointing as Argentina's post-1930 performance was, does it really involve an economic puzzle? Perhaps, we should just expect countries to rise and fall. Is it normal for countries that reach the league of the rich to remain in that league? Are there many countries which have, like Argentina, fallen from a per capita GDP of over four-fifths of the level seen in the 12 originally rich nations,3 to a per capita GDP level consistently below one-half of their incomes?
The list is short, and has the peculiarity that all five cases hovered around 40% of that sample by the year 2000: Uruguay (around 100% in the 1870s), plus four oil exporters: Venezuela (more than 100% in 1945–1960), Saudi Arabia (90% during the first oil shock), Kuwait and Qatar (both of them, more than 400% in the early 1950s). Three of the five are tiny, with a population less than a tenth of Argentina. All five cases achieved moments of extremely high levels of per capita GDP because of an exceptionally rich endowment of natural resources per person. In the case of Saudi Arabia and Venezuela, petroleum provided the source of natural wealth. In Uruguay, the riches reflected the fact that 213,000 Uruguayans held an average of 24 cattle and 12 sheep each in 1860.4
Was that also the case for Argentina? In the next section, we discuss that this possibility as Argentina's per capita GDP during the initial decades of the 20th century was the brief result of a natural resource boom. If Argentina's wealth only reflected the temporarily high price of natural resources, then those natural resources were a misleading indicator of true economic development. According to this hypothesis, natural-resource-based wealth is a far less durable source of prosperity than physical or human capital, and Argentina's wealth primarily reflected an abundance of acreage relative to countries of similar income per head.
Yet, economic theory does not automatically suggest that natural-resource-based prosperity will lead to subsequent poverty. Indeed, the standard growth theory suggests that countries using their natural resources fully can grow faster, ceteris paribus, not slower, than similarly wealthy countries that relied instead on standard investment, because the natural-resource-rich economy still has plenty of space for growth based on factor accumulation. Indeed, if we define modern economies as those where accumulation of capital—physical and human—and technology account for all of the growth in per capita GDP, a corollary of Solow-type models is the prediction of "conditional convergence": countries with lower per capita stocks of human and physical capital, while poorer, should grow faster due to decreasing returns (in countries with lower capital stock the marginal productivity is higher).
Consider two countries with a similar per capita GDP in 1910, one of them with more natural resources and less physical capital than the other, in per capita terms. Call them Argentina and The Netherlands (actually, in 1910, their per capita incomes were the same and they both had a population between 6 and 7 million). By 1910, Argentina had already reached its agricultural frontier, so it perhaps appropriate to consider land a fixed factor—though not an exhaustible one—by that time. Imagine, moreover, a similar technology and savings rate, broadly defined.5 If both countries have the same savings rate and the same per capita income, and assuming that they invest what they save (i.e., the closed economy case) in physical and human capital; then, they would both be adding the same amount of capital to their current stock. If both countries have the same rate of population growth, then capital per worker will be increasing by the same amount in both countries. However, because physical capital is initially lower in Argentina than The Netherlands, and if there are decreasing returns to capital, then Argentina's income per worker should be growing more than that of The Netherlands. A resource-rich country (say, Argentina in 1910) could easily have higher capital productivity and, therefore, grow more than another country that is poorer but more capital intensive (say, Austria-Hungary in 1910). Standard growth theory models would predict that there could be divergence favouring the resource rich.
A simplistic view might hold that population growth will lead to faster reductions in per capita productivity in a more agricultural economy, like Argentina, than in an industrial, urban economy, like The Netherlands. But that view implicitly assumes that the industrial economy is consistently adding capital to match the inflow of workers. There was nothing to stop Argentina from adding capital just as steadily.6
This emphasizes the point of the special collection: the stereotypical narrative of Argentina's relative decline (a country exhausting its source of growth, the exceptionally fertile pampas) does not sit well with the benchmark growth model in economics. The motives behind Argentina's decline need to be subtler and include the models, where natural resources can be a curse, as in the literature reviewed in Sachs and Warner (2001). Two- and three-sector models have been central to the debate on Argentina's growth difficulties.7 Most of these models address whether Argentina could have grown by persisting in its bet on its natural resources. The alternative view is that capital accumulation and technological advances necessarily required a structural transformation towards a more diversified economy. This structural shift hypothesis then asks whether that transformation would result from a market process or could only take place with government's assistance.
Models in the endogenous growth tradition will differentiate between Argentina and The Netherlands under the conditions described above. For example, Campante and Glaeser's paper in this special collection shows that Buenos Aires had lower levels of physical and human capital than Chicago. In models such as Lucas (1988), the level of human capital is a significant determinant of economic growth, as the rate of increase in human capital depends on its level, through externalities. A similar story could be made of technology or physical capital. Can such a model explain the unstable timing of Argentina's decline, with periods of accelerated divergence (the 1980s) and some of moderate convergence (the 1960s)? The answer is far from obvious.
The more general point is that Argentina's XXth century economic performance is puzzling. There are no straightforward reasons why, contemplating Argentina in 1910 or 1928, one could predict Argentina's unfortunate divergence. Contemporary observers were rosily optimistic about Argentina's future in 1900, the 20s or even as late as the immediate postwar.8 Other countries that were resource rich at the start of the 20th century, like Australia and Canada, still enjoy plenty of prosperity. An almost-rich country turned almost poor; Argentina is a likely outlier for many theories of economic growth. We now briefly discuss four primary hypotheses that can account for Argentina's exceptionalism.
3 Major hypotheses
In this section, we describe the historical context and summarize four over-arching explanations of Argentina's painful 20th century. These explanations are not mutually exclusive, and indeed, many are linked. They do, however, map out much of the intellectual terrain associated with the standard explanations of Argentine exceptionalism.
4 The plan of the collection
This special collection has seven papers, examining different aspects of Argentina's performance and of the hypotheses discussed above. We begin with one essay about Argentina at the dawn of the 20th century—comparing Argentina and America, or more specifically Buenos Aires and Chicago. We then include three papers on Argentina's place in the global economy. These essays describe the changes in Argentine trade, explore why those changes occurred, and then discuss how much this mattered for growth. We then include two essays on Argentine politics that focus on Peronism, income inequality and the relative degradation of Argentine institutions over the 20th century. We end with an essay about growth in incomes over the last 20 years.
The first essay, by Campante and Glaeser, contains two different parts. The first part focuses on two cities—Buenos Aires and Chicago. These two places looked extremely similar in 1900 and played similar functions in the economies of Argentina and the American Midwest. Yet, there were significant differences in the two cities, even in 1900, for Chicago was far more educated, far more capital intensive and more clearly on the world's technological frontier.
The paper's second section is a broad statistical exercise that asks whether Argentina's economic growth between 1900 and 2000 can be "explained" by the country's attributes as of 1900. As there is an extremely strong connection between education and growth over the 20th century, Argentina's relatively low level of education as of 1900 can explain most of Argentina's poor growth performance over the century. The statistical exercise also suggests that the strong connection between education and growth, both across the world and in Argentina, may reflect the fact that lower levels of education are related to dictatorship and political instability, which in turn seems to hamper economic prosperity. However, while Argentina's 20th century economic experience is not all that surprising, given that its early prosperity was not accompanied by other forms of development, that fact still doesn't really answer the key question—what went wrong?
Argentina's prosperity in 1900 was intimately related to its role as a great global exporter. Its relative decline post 1930 is related to a significantly more closed up economy. Thus, a good follow-up to the "lack of early human capital" hypothesis pays significant attention to Argentine trade. Thus, the next essays of this special collection focus on trade, starting with the paper by Campante and Glaeser. Then we have Alan Taylor's paper, which assesses the overall role that trade played in Argentina's economic progress. Using a standard, open economy model, Taylor suggests that a 50% increase in trade costs should have reduced Argentina's income by about 20% in the long run. That reduction is primarily due to increased cost of important inputs into Argentine production. While this is not far from the whole story, it does emphasize that, quantitatively, trade can be an important component of Argentina's missing prosperity, a theme of several of the articles in this special collection.
Taylor also performs some illustrative calculations that suggest that underinvestment in capital has also played a big role in Argentina's slower growth. According to some estimates, the marginal product of capital may be twice as high in Argentina as in the US, which suggests that Argentina's incomes might be 25% lower because of missing capital. Taylor then points us to political factors, such as instability, which may have led to this underinvestment in capital.
The next essay on trade, "Sixty Years of Solitude" by Brambilla, Galiani and Porto, examines the changes in openness in Argentina over the century. The paper documents three clear epochs in the 20th century Argentine history: an early era of openness until 1930, a subsequent 60 year period of relative economic isolation, and a post-1990 opening of the economy. Between 1929 and 1940, the share of exports plus imports relative to Argentine GDP dropped from almost 40% to below 15%.
The decline of trade during the 1930s reflected both external shocks—a global depression—and trade policies, like substantially higher tariffs. Gradually, Argentina adopted a series of import-substituting policies aimed at strengthening its domestic producers, and these seem to have cut the country further off from the global economy. These policies were only dropped in the 1990s when their failure had become too obvious to ignore. This emphasizes another theme of Argentina's missing prosperity: the selection of policies often contributed to the country's economic predicament.
The third paper on trade, by Galiani and Somaini, attempts to make sense of this long period of solitude arguing that there is path dependence in trade policies. With favorable terms of trade, the economy is dominated by agriculture and services, and there is a consensus for free trade. Adverse shocks to the country's trade possibilities ignite an industrialization process oriented towards the domestic market, but after the shock subsides, the consensus for free trade is broken. Vested interests in the manufacturing sector benefit from and support protection for their output. The size and power of these interests increase as anti-trade policies are enacted and the sector grows. According to this view, Argentina essentially got caught in an anti-trade trap: adverse trade shocks created sectors that supported protectionism, which became more powerful as the country became more inward oriented.
If this anti-trade trap impoverished the nation, even though it benefitted some industries, then we must understand why Argentina could not produce a beneficial political bargain. Indeed, one explanation for why Argentina got caught in this trap and other countries did not, is that Argentine political institutions were too weak to produce a welfare-enhancing bargain. Galiani and Somaini contrast the Argentine liberalization process with the Australian, where the protected industries received other, less socially costly, benefits in exchange for accepting lower trade barriers.
According to this view, there are several layers of interactions between shocks and policies. In particular, Argentina's trade policies are intimately connected to the external shocks and the relative strength of the different political coalitions that emerge, given the country's institutions. These interplay between shocks and policy, depend in turn on how shocks and economic events are interpreted, and on people's beliefs concerning the relevant policy elasticities. If professional economists seldom agree on the magnitude (and sign) of these forces, it is no wonder that policy reactions depend heavily on the narratives that political entrepreneurs provide.
Accordingly, the fifth and sixth essays in this special collection turn to Argentine politics and institutions. Peronism has played a central role in Argentina since the early 1940s, and the Peronist Justicialista party has dominated both the legislature and the executive branch of government since 1989. However, what is Peronism? In addition, what does it imply for policy selection? Di Tella and Dubra begin by analyzing the speeches of Juan Perón in the 1940s. They find that a core aspect of his rhetoric is that neither luck nor individual effort is responsible for people's economic outcomes. Instead, Perón argues that people's poverty reflects the actions of outsiders who, with the help of the local elite, are able to implement their nefarious purpose. Perón's rhetoric, of course, served to justify his actions, including trade barriers (which supposedly protected Argentina against malignant foreign forces) and nationalization (which handled the malefactors within the country). This worldview seems to have persisted in Argentina, even though it is no longer particularly associated with the Peronist party.
Di Tella and Dubra find that most of Argentina's electorate in the 1990s was on the left of the political spectrum: both Peronist and non-Peronist voters are more likely than American Democrats to say that poverty reflects an unfair society (rather than laziness), and of course, far more likely to hold those opinions than American Republicans. They are also more likely to report believing that a few big interests run the country. Interestingly, within Argentina, the Peronists are no longer the party with particularly leftist ideas. The non-Peronists, who are typically wealthier and more educated than the Peronists, are rather more likely to have "leftist opinions".14 The ideas that Perón espoused in the 1940s, that minimize the role of individual autonomy, have become ubiquitous in Argentina and even more common among the opponents of Peronism.
The essay by Alvaredo, Cruces and Gasparini looks at one of the determinants of these Peronist beliefs: Argentine income inequality. They have put together comprehensive tax-based data on incomes earned by the population as a whole and by the richest Argentines. Through the early 1940s, Argentina remained a stunningly unequal nation. The richest 1% of the population earned 25% of the country's income, which is far higher than the US even during the great depression. There was something real behind Perón's conspiratorial narrative. Between the 1940s and 1970s income inequality in Argentina plummeted, and by the 1970s, Argentina was no more unequal than other developed countries. Over the last 30 years, Argentine income inequality seems to have risen substantially, even more than countries like the US. One interpretation of these facts is that Argentina's mid-century policies achieved a very real objective—reducing inequality. Unfortunately, they also seem to have done so at a significant cost.
The last research paper in this special collection considers the growth of Argentina since liberalization in the 1990s. Many critics have argued that despite the economy's opening, growth has been lackluster. The paper by Gluzmann and Sturzenegger challenges this view. They present data suggesting that price indices have been badly mismeasured over the past 25 years, and in particular, prices have not been corrected adequately for the improvement in product quality and variety. Using data on food consumption, they provide suggestive evidence showing that Argentina has actually gotten much wealthier since liberalization. This provides a somewhat upbeat ending to the special collection. If their conclusions are correct, then Argentina did really turn the corner in the 1990s and is now headed for a significantly brighter future.
5 Conclusion
The 20th century economic history of Argentina is a great drama filled with momentous actors, like Perón, and seemingly full of missed opportunities and extreme policy choices. The trade essays in this special collection, for example, leave little doubt that the country erected a set of trade barriers that would eventually prove quite costly to Argentina's economy. The Taylor essay suggests that other interventions, and the political uncertainty that surrounded them, were similarly problematic. Institutional decay also played a big role.
Yet, Argentina in 1900 was not the US. It faced constraints and problems that were not so prevalent in other wealthy countries. Argentina had less education, a less well-developed industrial sector and more inequality. Throughout the world, these country characteristics have often been associated with costly policies that seem to deter economic performance. Education seems to support democracy, and inequality is practically an invitation for redistribution that reduces the incentives to invest. This does not mean that Argentina could not have done better, but that a starting fact explaining Argentina's exceptional underperformance is that the true starting level of wealth, broadly measured, is considerably lower than what has previously been assumed. It certainly was lower than what Parisians of the 1900s meant when they moaned "riche comme un Argentin", which means that at least some of her "failures" are comprehensible.
However, a lower starting point, and even a higher ending point if one accepts that recent GDP figures have to be adjusted upward to take into account the effect of increased product variety, does not fully explain Argentina's predicament over the last one hundred and fifty years. To make further progress we need to give some role for the country's odd choice of policies over the years. Accordingly, several essays in this special collection describe how a succession of Argentine governments picked policies that appeared not to be designed to maximize growth. At one level, voters came to believe that the rich elites were not particularly productive and caring, and came to demand policies that harmed them. Populism and political instability ensued, and private investment suffered. Part of Argentina's decline is explained by voter's beliefs regarding the unproductive Argentine elite and how they become rich through corruption and favoritism, instead of hard work and creativity.
This process introduces the possibility of poverty traps: a shock may lead people to believe that the rich are just lucky and the poor are simply the product of an unfair society. These beliefs, as well as income inequality, then lead voters to demand policies to redistribute some of that "unfair" income. Perón's popularity is in part explained by these forces, as well as by the initial economic success of his interventionist policies. Interestingly, such policies might introduce a vicious cycle particularly in a country such as Argentina, where there is also government failure and administrative corruption, leading to further demands for intervention and redistribution. Of course, reforming the corrupt government is one force that eventually comes into play. However, it is possible that anger against the rich who benefited from those corrupt policies is a powerful, persistent force leading people to vote for interventionist policies that are designed to bring about "fairness" rather than maximize material income.
Several of the essays in this special collection focus on one specific policy: protectionism. One reason is its central importance in the country given its proven ability to export primary products from an early stage. Another reason is that successful firms in a closed economy soon find that they can cover the internal market. If exporting is not attractive, they quickly turn to exploiting their connections selling to the government, fostering the perception that they have been unfairly helped. Thus, a closed economy is particularly receptive to anti-capitalist rhetoric. Accordingly, the essays in the special collection emphasize the role of external shocks and policy choices leading to the remarkable reversal of the laissez faire, low tariff regime by the middle of the XXth century.
While such a policy shift was not uncommon, particularly in Latin America, both its economics and its political economy were somewhat more perverse in the case of Argentina. First, as underscored by Galiani and Somaini in this special collection and Gerchunoff and Llach (2009), in an argument going back to Díaz Alejandro (1970), Argentina's peculiar endowments made protectionism a political winner, as it raised real wages, particularly in terms of food consumption. Argentina lacked, however, both the scale and the factor endowments for a successful inward-looking, autonomous industrialization. Argentina's incomplete postwar industrialization, dependent on foreign inputs and capital goods, soon stalled against the foreign exchange constraint imposed by stagnant exports. Starting in the 1970s, the benefits of a more open trade policy were superseded by the perils of real exchange rate appreciation, in a context where external indebtedness served to compensate in the short run for the distributional effects of trade openness. Those attempted shortcuts to economic prosperity were understandable in a country anxious to regain its former luster, but ended up contributing to two major debt crisis, in 1981 and 2001.
The essays in this special collection develop these ideas, and point to powerful path dependence in policies and institutions, and even in beliefs.
Footnotes
1
In fact, Lagos and Llach (2011) list as many as 38 different hypotheses advanced by the literature on the causes of the Argentine decline. On alternative systems of classifications, see Borges (1952).
3
The group uses GDP per capita measured in 1900, and includes England, France, Germany, their economic hinterland (Denmark, Belgium, Netherlands, Switzerland, Austria) plus the four "Western Offshoots" (USA, Canada, Australia and New Zealand). The thirteenth was Argentina (77.7% of the richest twelve), and, after a gap, Uruguay (62.5%), Sweden (62.3%) and Chile (61.7%) followed.
4
Uruguayan population in 1860: extrapolation from Maddison's data for 1850 and 1870 using a constant rate of growth. Cattle and sheep from Gran Enciclopedia Rialp, 1991.
6
Interestingly, population growth in Argentina seems to have been higher. In 1910, Argentina's population was 2.4% of the population of the "richest twelve" (footnote 3); in 2000, it was 6.4%.
7
The list of explanations in this vein are too numerous to be listed here. Di Tella and Zymmelman (1962) and Díaz Alejandro (1970) are two examples.
8
A well-known quote is from Paul Samuelson: "In 1945 I was a young talented economist. I was at the height of my abilities. If someone had asked me what part of the earth would develop the fastest in the next 39 years, I would have said: Latin America − Argentina or Chile. There is a moderate climate there and a population with European roots… I was completely off the mark." Interview for Der Spiegel, 28:2005.
9
The discrepancy occurs because early figures are estimated working backwards from current estimates (using growth rates) and there were upward corrections to GDP numbers in the 1990's. Note that the revised estimates of Ferreres (2005) are very similar to those of Maddison. For the period before 1900 things are even sketchier; the best available estimates come from Della Paolera (1988) and Cortés Conde (1997).
11
The idea, broadly, is to use an estimate of the amount of money held by agents in excess of what they need to finance official transactions (making assumptions about the relative velocity in the shadow and official economy). Another revision in the late 1990 s updated prices and led to a downward correction.
12
This is the estimate provided in the report by The National Commission on the Disappearance of Persons (Comisión Nacional sobre la Desaparición de Personas, CONADEP). Given the absence of legal, documented trials, these estimates are often questioned.
14
Perhaps the Argentine counterpart of what Tom Wolfe, reflecting on a fundraising party for the Black Panthers at Leonard Bernstein's Park Avenue duplex, called "radical chic".
Declarations
Open AccessThis article is distributed under the terms of the Creative Commons Attribution 4.0 International License (http://creativecommons.org/licenses/by/4.0/), which permits unrestricted use, distribution, and reproduction in any medium, provided you give appropriate credit to the original author(s) and the source, provide a link to the Creative Commons license, and indicate if changes were made.
Authors' Affiliations
(1)
Harvard University and NBER, Cambridge, USA
(2)
Banco Central de la República Argentina, Buenos Aires, Argentina